I am loving this holiday blogging time of year, aren't you?! I am constantly inspired by so many creative Christmas craft projects! This past week I was really inspired by Stephanie Lynn over at
Under the Table and Dreaming
. She made a rustic yet very festive Christmas tree out of shims and displayed in a wooden frame made out of wood scraps. How resourceful!
So basically she started out with this:
[1x1 scrap pieces of wood]
And this:
[shims were soaked in water, stained with green acrylic paint, soaked again, and wiped with a paper towel]
And it all ended up like this:
[Pretty cool, huh? She adhered some red & white striped fabric to some cardboard for a Christmasy background, then glued everything on to make a Christmas tree.]
I am really loving this project! And the best part about it is that it looks very durable. That's always a bonus in my house when all of the Christmas decorations get crammed in a box and thrown into storage. Lol!
To find out what products she used or a more detailed tutorial, please click
HERE
to view her original post.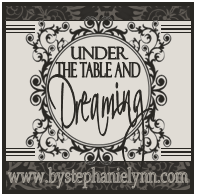 [Click on the button to go visit her super cute blog!]

----------
Great job, Stephanie! And thank you so much for sharing another amazing idea! :0)
[Jen]